Yesterday the pro football hall of fame elected seven new members. Two of them were Buffalo Bills, owner Ralph Wilson and defensive end Bruce Smith.
My fandom of the Bills was solidified in the late eighties in Fredonia. I'd go over to Dave's or Jeff's to watch the game. You could see the team was improving from their malaise with Marv Levy as coach. Levy and GM Bill Polian assembled and molded a heck of a football team.
While not Levy's draft pick, he came along in mid 1987, Smith was the number one pick in 1985, a massive kid out of Virginia Tech. It took a few years and a couple of coaches for Smith to settle in Buffalo. He had some weight, drug and attitude issues.
My favorite Smith memory happened in 1988. At the first NFL game I attended. The 'When Harry Met Sally Game' in fact. They were playing New England. It was a very tough game that neither team wanted to win. There were fumbles, penalties, missed field goals and extra points. Somehow the Bills had managed to pull ahead but New England was setting up for one final drive and a hail mary. Before the last play of the game Smith was lined up wide on the right side of the line and he was pumped - winding up his arm like Pete Townshend before a tremendous power chord. The New England quarterback ran to his right as the play started and Smith ended up running more or less halfway across the field and crushed him with a sack, ending the game.
That quarterback's name was Doug Flutie.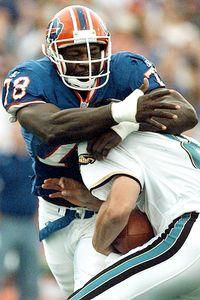 I stood next to him while waiting for chicken wings at BJ's. He was a big man, in amazing shape. His biceps were tremendous. One time he tried to help out a waitress there by clearing a tray of glasses. He dropped them. The bar immediately hushed. Everyone stared. Who was going to laugh at Bruce Smith? You?
Sure, you can mention the four straight Super Bowl losses, everyone does. You have to remember though, in the city of Buffalo, these guys are loved, including Scott Norwood. Especially Scott Norwood. I learned a lot about obsession, loss and resilience from watching these teams come back.
My second favorite Smith memory came as his Buffalo career was winding down (it ended in Washington) in a meaningless Monday night game against Miami. Frank and I just stared at each other watching at Michael Dominic's as Smith was covering a wide receiver on a pass play - and he did a damn good job at it.
I'm happy to see that ninety year old Ralph Wilson was finally elected to the Hall also. He was instrumental in getting the AFL started in the early sixties and while he and Buffalo had a love/hate relationship at times, he's always come through for the city.
Now that he's nearing the end of his life though, it gets a bit complicated. None of his heirs want to run the team. It's going to be sold, but to whom? Keeping the team in Buffalo does not seem to be a part of his will and if it leaves, well, an NFL without the Bills in Buffalo is not a league I will support. I want the team to stay, and hope it does, but that's a big unknown.