Today was my son's last swimming lesson for the summer. The last few weeks he's climbed onto the board in the deep end, stood there, then sat there. Last week he got tossed in from a sitting position. This week they took it to the next step.
He does like being tossed around in the pool, and being in twelve and a half feet of water does not faze him either. He is a very good swimmer and can tread water very well. They're cleaning the pool and fixing it up for a few weeks. Next time in is September 10th.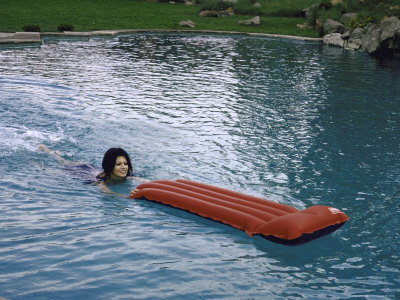 After his lesson he and I went to a event. A few weeks ago we received an invitation from one of his classmates to his birthday party. This was the first time he has been invited to a birthday party. I was a bit nervous myself, meeting new people is not activity I seek out, but I sucked it up and we went.
As it turned out, he was the only one of his classmates who attended. We were around people who understand special needs children and while my son sat next to me most of the time, we had a good time batting balloons around the living room with everyone. They own a couple of nice, smallish dogs that he was a bit vary of, but they did not really bother him, or anyone else. One child though, is afraid of dogs and was very uncomfortable with the dogs barking in a shut room so they had to leave early.
When the cake was cut I had some yogurt and pudding ready for him, and a splendid time was had by everyone. Very glad I crossed my own comfort zone to do this for him.
He's been in OT for his eating issues for a month and a half now. He's getting on with his therapist but she's not able to break through. He does great, follows along with her, until it's time to eat. You put a couple crumbs of graham cracker, or any thickener into his food he notices and completely shuts down. It's going to be tough.